More News
Sept. '08
In stock!!!
Aug '08
2005 Lotus Elise Engine Management
July '08
TurboHoses' is now a dealer for BBS Wheels.
June '08

TH MOTORSPORTS
PRESENTS
Nobles at ThunderHill
June 17, 2008
April '08
Tanner Foust drives a TurboHoses' built Noble.
To be aired may 08 or early June 08
Jan. '08
The first single turbo Noble M400

May '07

Hennessey Features
1000whp Viper
March '07
Exclusive West Coast Distributor
Feb '07
Import Racing Guru
Vinny Ten visits TurboHoses
Dec '06
Underground Racing 1500whp Viper
&
Autobahn Motorsports
201Mph Supra
Aug '06
Rapid proto-type part to repair air jacker equipment for Federal Express. 48 hour turnaround time.
July '06
TurboHoses R&D Proto-types for General Motors next generation Diesel Engine.
June '06

Hennessey Performance dominates the competition in this years American
Super Car Shootout.
May '06

Lingenfelter Twin Turbo Corvette Featured in Road and Track.
Nov '05
TurboHoses R&D supplies parts to these government subcontractors in the development of the next-gen unmanned vehicles:

General Atomics Aeronautical Systems' Unmanned Aircraft Vehicle (UAV)

UGCV: Unmanned Ground Combat Vehicle
National Robotics Engineering Consortium's next-gen unmanned vehicle.

Aug '05
Ralph Braun's Hennessey Built Venom 1000 Twin Turbo ran 210.2 mph in the standing mile (0 - 5280 ft.) to take first place overall in the ROAD & TRACK Standing Mile Shootout (featured in the September, 2005 issue). Even more amazing was the fact that the Venom Twin Turbo ran 0 - 200 mph in just 21 seconds! Mr. Braun's silver Venom Twin Turbo is also featured on the cover of the magazine.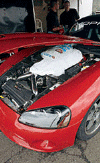 Hennessey Venom Twin Turbo Viper SRT10 Takes First Place Overall in the 2004 CAR AND DRIVER Supercar Shootout.
1st Place Open Class
Viper Twin Turbo

Congratulations to Vic Sias!!
Topeka Kansas 2005 SM First Place

Congratulations to Navid Kahangi.
Topeka Kansas 2005 ESP First Place

World's Fastest 300ZX...click here to read

TurboHoses R&D Team
engineers & equips the United States Dept. of Defense
M113 Armored Personnel Carrier before its testing in Spain.

San Jose Grand Prix
Congratulations to Mpact Motorsports
M3 takes
2nd place click here to read

TurboHoses
Trans-Am Series
8-13-05
Past Media
Success only comes from using the highest quality components. TurboHoses R&D stands behind our tradition of excellence!!!
These are just a few of the Stars that have utilized TurboHoses to achieve success.
Oct. 2004 Road & Track Magazine Hennessey Twin Turbo Viper

equipped with Turbohoses

Nov. 2004 Car and Driver Magazine Super Challenge

1st Place Winner

2004 Cadillac CTS-V

Named Legal Knevil

Watch for it's debut in the front cover of

Muscle Mustangs & Fast Fords

"Thanks to TurboHoses...it all has come together!"

Todd Fisher

TurboHoses R&D Engineers work with the CEO

of this Super Car Company.

Look out for it's prevailing at this years SEMA Convention

Turbohoses R&D Mr2 hits Aussie's Tuner Magazine: Fast Fours. Vol.16 Number 9

&

June 2005

This Ultimate Street Car Magazine Viper relies on

Turbohoses to keep things together at 203MPH.